Pack School Info
Three different types of packing training are offered:
Book signing and packing demonstrations - usually from 2 to 4 hours each. Books are signed by the author, Ollie Hill and several demonstrations are done showing a variety of hitches used in packing. Tack and saddle shops, book and feed stores have found this is a great way to promote packing gear and books.
One day packing schools - live pack animals and all the equipment are provided. Classroom along with lots of hands on training is offered. Hitches and knots, first aid, wilderness survival, regulations on public lands, packing and camping equipment and lots more are covered. Well worth the registration fee. Check the web site for schools scheduled for this year. Neighbor friend, Jay Talbott of Savage Run Outfitters, serves as a co-instructor along with Ollie and Jay's son Jaymes helps out as well so that everyone's questions are answered. A certificate of completion is presented to each participant.
Credit courses - have been taught for the University of Wyoming, Colorado State University and Laramie County Community College. These are very extensive classes with term papers, final exams, etc.
The following photos show a variety of horse/mule classes held in the Rocky Mountain area.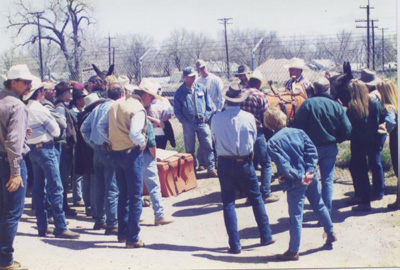 Showing and discussing a large variety of packing equipment, saddling up and adjusting equipment is a key part of the schools.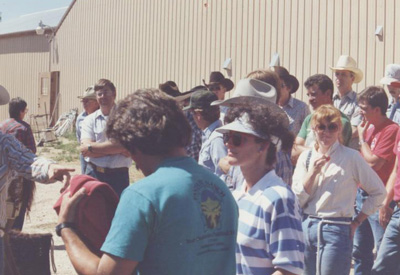 Preparing to saddle up and adjust the equipment on the four mules. Students work in pairs learning all the hitches.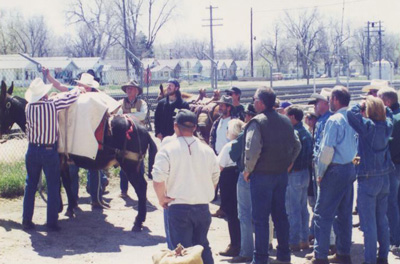 Then comes the demonstration of the single diamond hitch for all to see and then for everyone to tie on their own. At least four frequently used hitches are taught during the one day schools—single and double diamond, basket sling and the Arizona or Basket Hitch.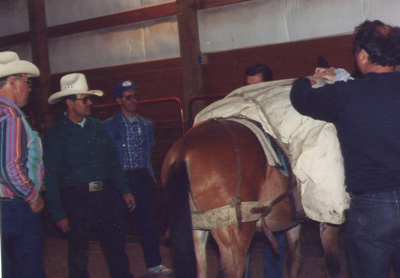 Balancing the load and then tying it on—right and tight is an important part of the learning for the day. Students are working on a single diamond hitch.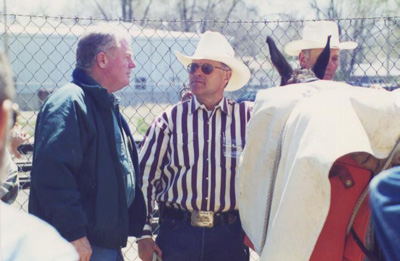 School instructors, Ollie Hill, center, and Jim Talbott (deceased) on the right, show how to tie the Arizona or Basket Hitch prior to students learning to tie the hitch. A hard hitch to learn, but a very good hitch to use on the trail.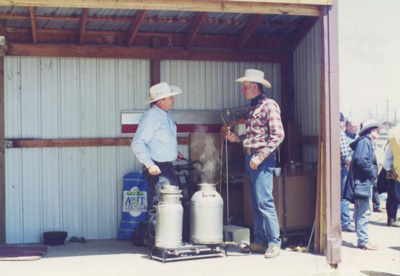 Lunch time comes before you know it and everyone enjoys a cream can dinner, an excellent way to serve a hungry group of packers. During lunch a packing film is shown followed by a discussion of the camp, trail etiquette, etc.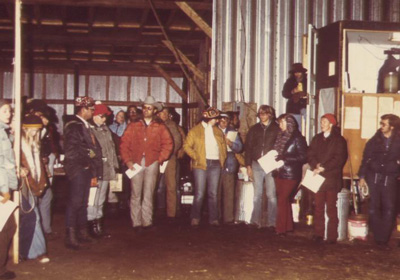 At the end of a packing school day, everyone is presented a certificate of completion.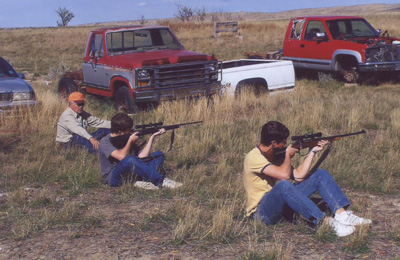 Grandpa, Ollie coaches two of his four grandsons on their first mule deer hunt, a very special and memorable time with son Lynn and grandsons Nick and Zach. Yes, they both harvested nice bucks on their first big game hunt.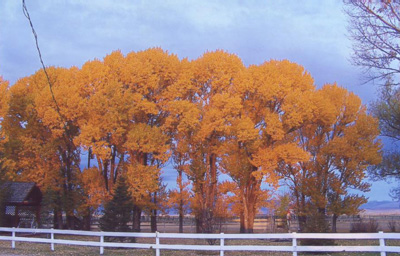 Fall at the (P) Ranch is a great time with beautiful colors and preparation for big game hunting seasons. Harvest of the certified grass hay is completed and the hay is in the stack or in the big hay barn for winter customers. Some of the horses we keep for the winter are here and in the meadow until spring.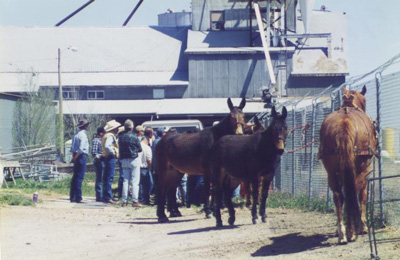 The mules and horses await the students and the equipment. Saddling, unsaddling and adjusting the equipment is old hat for some, but very new for others.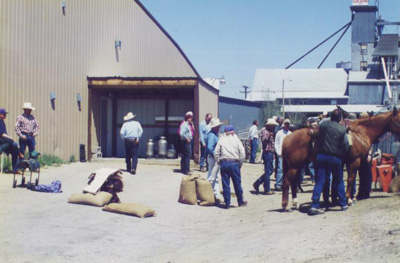 The load and balancing the load comes next and is very critical in packing. Using a set of scales to weigh each pannier so they are equal and balanced will save lots of headaches down the trail for man and beast.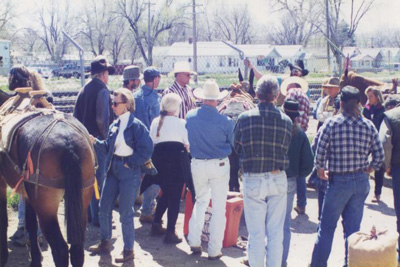 Learning a hitch takes some concentration and practice. That is why all the hitches are illustrated in the, "Packing and Outfitting Field Manual, Fifth Edition" exactly the same way they are taught. The students can go home and refresh their memory by looking at the illustrations again until they fully understand and can do them easily. This is also the reason why Ollie wrote the book, "Do It Yourself—Mini Pack Horse". It has a complete pattern to build a miniature wooden pack horse and his pack. Then you can practice and practice any and all the hitches.
Do you want to be a packing school sponsor or attend one of the packing schools?
If you are interested in hosting/sponsoring or attending a packing school, a credit course or a book signing, please Contact Us.